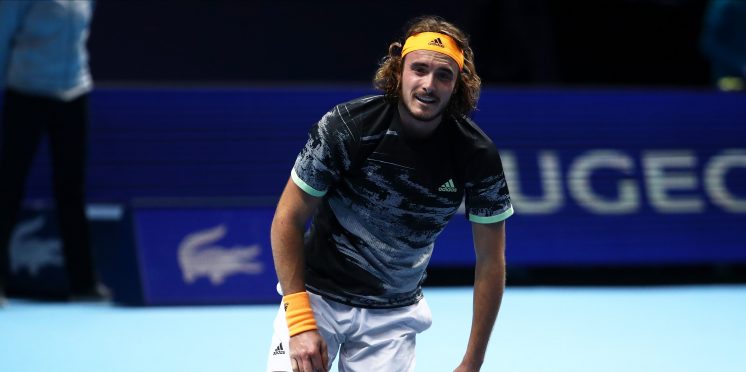 ATP Finals: Tsitsipas overcomes Thiem to win title
Stefanos Tsitsipas won a third set tie break to overcome Dominic Thiem in the ATP finals in London.
Although both players performed well in the opening stages, it was the 21-year-old Greek player who looked the more comfortable, displaying a brilliant range of shots.
Both players survived breakpoints throughout the first set, with Thiem having two chances to break Tsitsipas' serve in the seventh game. Although each player had their chance to break, the game started to even up with Thiem growing into the game as he became more confident.
At 6-6, Dominic Thiem dominated and had two set points to wrap up the set, something which he did to make it 8-6 to go 1-0 up in the match. At this point, it seemed like the Austrian was firmly in the ascendancy.
However, Tsitsipas broke Thiem's serve twice in a row to go 4-0 up. Thiem seemed to fall asleep after edging that very close first set. Although he held his serve twice later on in the set, the writing was already on the wall for the 26-year-old, who lost 6-2 in the second set.
Tsitsipas carried this momentum into the third set, breaking in the third game to go 2-1 up. However, a break back from Thiem led to the Austrian taking a 4-3 lead, with each playing then holding their serve right until the end of the set.
At 4-1 up in the match-deciding tie break, it looked like Tsitsipas would run away with it until Thiem tied it up at 4-4. However, the 21-year-old won the next three points to take the title in London.
You can find my live blog for the final here.
Other Nitto ATP Finals Results:
Tsitsipas:
Group Andre Agassi – Win vs Daniil Medvedev: 7-6, 6-4
Group Andre Agassi – Win vs Alexander Zverev: 6-3, 6-2
Group Andre Agassi – Loss vs Rafael Nadal: 7-6, 4-6, 5-7
Semi-Final – Win vs Roger Federer: 6-3, 6-4
Thiem:
Group Bjorn Borg – Win vs Roger Federer: 7-5, 7-5
Group Bjorn Borg – Win vs Novak Djokovic: 6-7, 6-3, 7-6
Group Bjorn Borg – Loss vs Matteo Berrettini: 6-7, 3-6
Semi-Final – Win vs Alexander Zverev: 7-5, 6-3
---