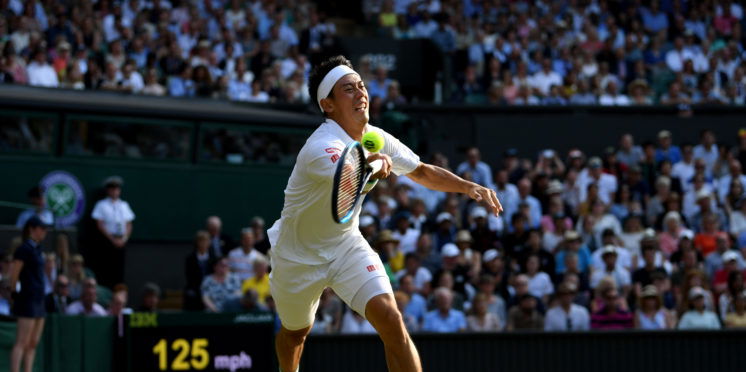 Quarter Final Report: Federer overcomes Nishikori in a close encounter
Roger Federer is through to the last four of Wimbledon 2019 after beating seed number eight Kei Nishikori in four sets. The game finished 4-6, 6-1, 6-4, 6-4. After a tough opening set for Federer, the Swiss player took control of the match to win three consecutive sets.
Match Overview:
Eighth seed Nishikori made an impression straight away, taking the first game of the match and his first break of Roger Federer's serve. Nishikori had another chance to break Federer's serve with three consecutive break points before the Swiss fought back to win his first game of the set. In the fifth game, the Japanese player had yet another break point that he failed to make the most of at 30-40. Federer went on to be victorious in that game to drag the first set back to 3-2.
Those missed opportunities were almost costly as Federer himself had a break point and a chance to tie the set. Federer did not take this chance and Nishikori held his serve in a competitive eighth game to take the game to 5-3 in Nishikori's favour. Both players continued to hold their serve and Nishikori came out victorious in the first set, winning 6-4 and gaining a crucial break of serve.
Federer came out as the stronger opponent at the start of set two, winning the first game on his serve and then breaking Nishikori's serve in the second game without losing a single point. The Eighth seed managed to hold his serve in the fourth game before Federer took the next two games to lead 5-1, serving for the set. Despite a close seventh game, Federer won the game and the set 6-1.
The first game of the third set went to deuce four times on Nishikori's serve before the Japanese 29 year old managed to get over the line. Both players continued to hold their serve up until the seventh game, where Federer edged it on a Nishikori serve and then won another game to lead 5-3. Nishikori was serving to stay in the set at this point. Eventually, Federer won the third set 6-4 after a competitive tenth game.
The fourth set remained even until nineth game, where Federer finally broke Nishikori's serve and took a 5-4 lead. Federer was now serving for the match after a tough opening set and a close fourth set between the pair. The Swiss player won the final game of the match with an ace to make it 6-4, without losing a point. The match finished 4-6, 6-1, 6-4, 6-4.
Wimbledon 2019 Record Head-to-Head:
Nishikori:
1st Round: Thiago Monteiro (6-4, 7-6, 6-4)
2nd Round: Cameron Norrie (6-4, 6-4, 6-0)
3rd Round: Stevie Johnson (6-4, 6-3, 6-2)
4th Round: Mikhail Kukushkin (6-3, 3-6, 6-3, 6-4)
Federer:
1st Round: Lloyd Harris (3-6, 6-1, 6-2, 6-2)
2nd Round: Jay Clarke (6-1, 7-6, 6-2)
3rd Round: Lucas Pouille (7-5, 6-2, 7-6)
4th Round: Matteo Berrettini (6-1, 6-2, 6-2)
What's Next For Federer?
Roger Federer faces the third seed in the semi final of Wimbledon on Friday, Rafael Nadal. After performing well so far this tournament, Nadal will be one of the only players who will fancy his chances against Federer, who has won Wimbledon an impressive eight times. The Spaniard won against American Sam Querry in the quarter final to reach this stage. He also won in straight sets.
---